Chris Jericho doesn't stop. From wrestling around the world to acting, hosting a podcast, writing and touring with his band FOZZY, the Winnipeg-native has to be one of the hardest working people in show business. Jericho takes time from his hectic schedule to talk with Matthew Tomich about wrestling, touring and Fozzy's upcoming tour with Steel Panther.
A lot of bands find touring Australia to be kind of a rude awakening, at least compared to the US and Europe, because a lot of the time in between shows is spent at airports. Do you struggle with that kind of travel arrangement? Does it affect your performance?
CJ: Not at all. There are pros and cons to travelling by plane. Obviously when you're doing fly dates – Australia is a big country so you can't really get on a bus and drive. I wouldn't want to do that. The thing is, when you play the show, it's a half hour, hour, two hours of the day, and the other 23 or 22 hours are always more of a hassle whether you're travelling on a bus or travelling in an airport. A bus is great but it's also great to have a hotel to go to every night of the show. And you know, we love touring Australia. Australia's one of my favourite countries in the world to tour because of that – the fact that it's a different style. The fans are great here. The treatment is amazing – Soundwave promotions are always top notch. It's hard work to travel that way, but it's also very relaxing. I don't have to sit on a bus with a bunch of sweaty dudes. I can just relax in my hotel room until it's time to go to the show. Does it suck at seven in the morning when you've got to wake up and go through customs? Yeah, it's not the best thing, but for the rest of the day afterwards, it's a lot more relaxing as well.
When you're touring with Fozzy as opposed to the WWE, do you get more of a chance to spend time in the cities you tour?
CJ: Well, you can. I mean, we were just here in February. We had a great time in Sydney – we went to a go kart racing course with Bullet For My Valentine and that was a blast. I've been fortunate. I've gotten to come to Australia a few times and I always have a great time here. Last time we had a day off in Perth and I had a blast. I'd never been to Perth before and that whole place is great. Australia's a beautiful country so wherever we are when we have a day off or some extra time, there's always something you can go do. Like I said, there's also something to be said about just relaxing. We're working on a new record right now, so it's very much writing time, getting involved with some of the stuff we're going to be working on in the next two months. I'm working on a third book, so it's given me some time to do that as well. There's always stuff you can do on a day off , especially when you have a country like Australia where there are a lot of things you can do outside of the room, makes it easier to leave as well.
In between touring with Fozzy, working on that third memoir and hosting the podcast Talk Is Jericho which just launched, do you basically devote every waking hour to work of some kind?
CJ: Well, it sure seems that way sometimes, especially with all the projects that I have. The one thing is when I'm home, I try and stay home and not work as much. Being on the road, it's definitely more work-time in that case, but I really dig being on the road. I dig being busy and I dig creating. In this day and age it's more about the brand rather than a certain thing. Whether it's Chris Jericho's in Fozzy or he's a wrestler or he's an author, he has a podcast – everything kind of falls into the Chris Jericho umbrella and that's where you want to keep it, so I like being busy.
Early in your wrestling career you kind of patterned yourself on Shawn Michaels. In Fozzy and your other projects, is there anyone that you look up to and try and take cues from, or are you confident enough that you can jump into something new without that?
CJ: Well, I didn't try and pattern myself off of Shawn Michaels. He was just a guy that inspired me at the start and was the type of guy that I wanted to be like. In music, it's the same thing; you have your influences. I love Iron Maiden, I love Metallica, I love the Beatles, I love the Stones. You always have elements of those people. I think if you watch me as a front man, there's a little Bruce Dickinson in there, there's a little Mick Jagger in there. Vocally, there's a little Ozzy Osbourne. You hear a little Michael Kiske in there you hear a little James Hetfield in there, but it all kind of shapes up to becoming your own performer and your own style, and that's what it's all about; maturing as an artist. You always have guys that you like from a fan standpoint, and when you actually get in the business, you want to be your own person, and that's kind of the way I've cultivated myself.
You obviously have a legacy in wrestling as one of the most decorated performers in the business. What kind of mark do you want Fozzy to make on heavy metal?
CJ: We want to be the biggest band in the world, and if we didn't feel that way, we shouldn't be doing this. I think what we do best is we've kind of created a real niche for ourselves in that we're a very heavy band with very melodic heavy riffs and very melodic vocals. I think that's what we do that not a lot of other bands are doing at this point. That's one of the reasons why the band has done as well as we have. We've created a different sound for ourselves and we take that very seriously, so we're going to definitely continue doing that. We're already working on the next record and it's going to be more of the same; very heavy riffs, very melodic choruses, very Fozzy.
At what point in Fozzy's career did you feel like you'd established the band as something legitimate and separate from Chris Jericho the wrestler?
CJ: Probably in 2010 when we started working on the Chasing the Grail record. We really made a cognizant effort to change who we were image-wise, credibility-wise and perception-wise, and we wanted to do it full time. It's been that way ever since we decided to work on that; the band has been a full time priority for us, and that's when it really started growing and getting to the next level. I remember when we played Soundwave last year in February, we were on at 2.30 in the afternoon and we had like 8,000 people in Sydney, and the band right after us had 50 people. 8,000 people had come specifically to see us early in the day. We were a destination band, and it made me realise the progress we'd made in Australia. It's like that for us in Germany, it's like that for us in the States, it's like that for us in the UK, and I think that's one of the reasons why we got invited back so quickly. We're back here nine months later for the Steel Panther tour and for our own shows in Melbourne and Sydney, and I think the reason for that is that Soundwave believes in us as a band and they want to help us grow in Australia so we can be more of an asset to them in the future.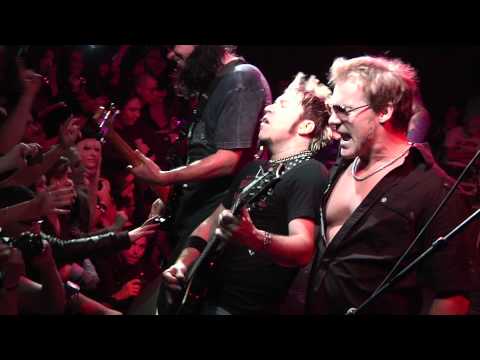 How are you changing up these shows from your Soundwave set earlier in the year? What can we expect to be different?
CJ: I don't think it's going to be different from before. I can't remember how long our set was at Soundwave – it might have been a few minutes longer. But we're playing a couple of different tunes. We're keeping it basically the same. What we do is we go out there and we crush it. We don't take names. We go out there and annihilate right off the bat. It's a very heavy set and it's very crowd participation-friendly. We demand a lot of energy from the fans and we get it, and I think when we're done our 30 minutes opening for Steel Panther, people are going to be catching their breath wondering what the fuck just happened. And when we do the headlining shows in Melbourne and Sydney, we're playing a whole set which we haven't had the chance to do yet on this tour, because obviously Soundwave was a 40 minute or 35 minute set, and now we do 90 minutes in Melbourne and Sydney, do a career retrospective and do the whole show. I think diehard Fozzy fans are going to flip out to see us play the headliners, and I think newer Fozzy fans and people that don't know us are going flip out to see us open the show, so it's a win-win situation. If you're going to both, it's great, too – you get to see a big venue in comparison to a club-type vibe, which are both cool in different ways.
Do you change your approach when you're opening versus when you're headlining your own show?
CJ: You can't, really. I mean, you're obviously preaching to the choir when you play your own shows; the crowd's are always a little bit more insane. But when you're opening, you want to cultivate, you want to grow, you want to be like a missionary and create new fans, so we pretty much put on the same show either way. I'll judge the crowd and see what they're buying and what they're not, and obviously for our own shows it's a lot easier, but when you're doing shows as a support it's fun too, because you get people there to see you and those people will be going nuts, and then you get people who have no idea who you are and they'll be standing there, looking at us like a weird bug on the screen, and that's cool too. That's why you do a tour like this – because you want to cultivate new fans and make new fans, and it's kind of what we do best.
How do you find working the crowd as a frontman differs to working the crowd from in the ring?
CJ: There are a lot of similarities. Both are very high, intense forms of entertainment, both very contingent on the reactions you get from the crowd. And you know, I've got to be the party host, work people into a frenzy and make them get into it, whether it's on stage or whether you're in the ring. When I started wrestling, I wanted to be the Paul Stanley or the David Lee Roth of wrestling – the ultimate frontman. Then we started Fozzy, I took those qualities I was doing as Y2J that I'd stolen from Paul Stanley and David Lee Roth in the first place, so it's all very similar. You're just being a frontman, and the frontman's job is to get the crowd into the show and dictate the ebb and flow . That's what I do with Fozzy and the WWE.
Do you have as much flexibility when you're with Fozzy to change things up like you do in the ring?
CJ: Not so much switching songs. Intros, the way I do the songs, the way you work the crowd, you've just got to feel it. Every crowd is different. You have a certain skeleton that you stick to, but you have the ability to go with the flow and make the changes when they come around, so you've got that side of it as well. That's all part of being a good frontman, is dictating the ebb and flow of the show and reading the audience, giving them what they want and maybe giving them what they want even though they don't know it.
It's coming up on the end of the year – what are some of your favourite albums of 2013?
CJ: I love the new Avenged Sevenfold record. I love the new Dream Theater record. I love – what else has come out? I can't think of anything else – the new Paul McCartney record is really good. It's been a pretty good year for records.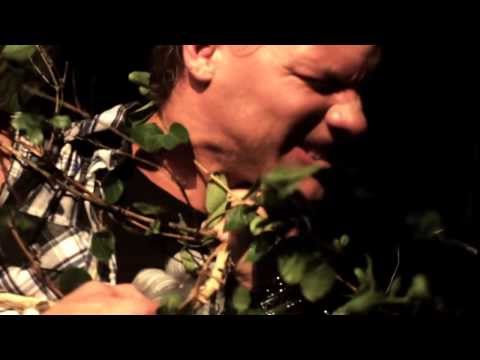 Are you listening to much lately that falls outside of metal and rock?
CJ: Well, I listen to rock 'n' roll. I'm a rock fan, and to me the new Avenged and the new McCartney are the same. They're both great records by great rock artists. Some are heavier than others. I don't really listen to a lot of Top 40 stuff – buy it, should I say – I listen to it on the radio when I drive my kids to school. You're always hearing Katy Perry and Lady Gaga and Bruno Mars and those type of acts. But what I have on my iPod is all rock and metal.
What about recent discoveries – bands that you've started listening to in the last 12 months?
CJ: I don't think so. It's interesting because when you're on the road touring so much, you don't get a chance to see a lot of bands you'd like to see or get into newer rock 'n' roll that you would've liked to get into a little more. If you're touring with a band you get to listen to them when you're playing with them every night, but other than that, you don't get a chance to get into them. We did a tour last year with Shinedown and I didn't really know them. They were a great band with a lot of great songs, so I studied them while we were on Uproar which was very cool. Last year on Soundwave I really got into Paramore because they played after us, so every time I went to see who was playing I'd see Paramore and I thought they were an amazing band. When you're on the road a lot you just see who's playing and you check them out, and that's the best way to get exposed to new bands. Other than that, it's just word of mouth, or if something seems cool to me I check it out, but most of the time I don't really have time to get into new bands unless it's something really cool.
When you're watching bands you're on tour with, can you appreciate their music purely as a fan?
CJ: I don't think you can ever watch a band as a fan anymore. It's like I can't watch a wrestling match as a fan anymore. Obviously you'll be a fan, but in the bottom of your mind you're thinking about how you might do things, or how tight they are, how they're blowing you away or not blowing you away with what they're doing, how they react to the crowd. I'm not concerned whether they hit a wrong note. I'm concerned about how the crowd reacts. The definition of a good show is having a great crowd rocking and going insane for you at every moment. That's what I like, so I always watch how a band works the crowd and the reactions they're getting. That's how I watch and grade a band at this point in time.
In a lot of interviews lately, you've been talking about not wanting to repeat yourself in wrestling by, say, returning at the Royal Rumble. How does that desire to do something new every time manifest itself in Fozzy and your other creative pursuits?
CJ: Well, I mean, I've always been a creative person. I've always been into rock 'n' roll and I've always been into wrestling. Those are the two things I've wanted to do my whole life so I think that the coolest thing for me is I've had a chance to live both of those dreams, and they're both very similar from a creative standpoint. I'm a creative person and I need to stay creative, so anything that I do within the Chris Jericho banner falls under the creative realm. It's how I've always been and how I'll always continue to be.
Beyond Fozzy recording early next year, what do the next 12 months look like for you?
CJ: Fuck, I don't know about the next 12 months, only the next two. I started a podcast which is a big hit right off the bat and the first episode did really well, so that's kind of a priority. Doing this Fozzy record is a priority and finishing this third book is a priority, so I've got all those things rolling right now.
Fozzy join Buckcherry and Steel Panther at Metro City on Thursday, December 12. Tickets on sale now through Oztix.
Related Articles
Comments